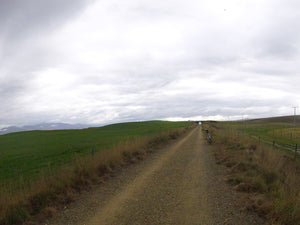 Kit Your Bike
When cycling long distance, you want to be prepared for anything with an excellent bike kit. Just last week I spent 3 days doing a 150km cross country trail just for fun. It was a great trip spent with lots of cycling, camping along the way, and stopping off at local pubs and eateries. Over this 3 day period I biked in all kinds of conditions, rain and shine, night and day and I somehow managed to get 2 flat tires. I am the most unlucky person in the world when it comes to getting flat tires, but these instances did not end my trip because I kitted out my bike properly and was prepared! With my kitted out ride, I was able to complete the entire trail and just keep rolling. 
Of course the biggest bump in the ride was the flat tire incident. I will say that both flat tires were caused by the same problem. A tiny piece of glass had embedded itself into my back tire and rolling over a rock managed to push it all the way through and puncture my tube. But with my handy storage bag, I was able to pull out the essential kit I had brought with me to patch it up quickly and get back on the trail. You can find a variety of these storage bags made by XLAB in our shop to fit your cycling needs. The second flat tire was actually caused by the same piece of glass! At first I thought the patch had failed, but it turned out to be a totally different hole. It looked like I didn't get all of the glass out of the tire and another tiny piece managed to make a second puncture right next to the last one! Shrugging it off because this is just my luck, the second hole was patched up quickly and I was on my way again. 
Over a long distance ride, another thing you have to think about is changing weather and light conditions. With my excellent NiteRider head and tail lights, I was constantly visible and I was able to see the path ahead of me clearly. This came in very handy during the portion of my trail that traveled through 2 decommissioned train tunnels. The tunnels were constructed through the hills and were long enough that you couldn't see without additional lighting. Thanks NiteRider! 
The lesson is clear to me - kit your bike properly and you can roll with the punches. Being prepared means a lot less time dealing with the elements and a lot more time enjoying the ride. 
Check out our cycling gear here to kit your ride with amazing brands like Race Face, Xlab, Dumonde Tech, and NiteRider. Also handy is to have a bit of a first aid kit with you. Check out Brave Soldier's Friction Zone and Anteseptic Healing Ointment to keep your cycling trip pain free! 
---