---
---
Adaptable Storage Bag with Phone Protection
Rethinking top tube bags! After more than 2 years of development, the TEKLITE™ TT 660  is within reach, bringing you the next generation in top tube bag functionality. With adaptable storage, versatile mounting, top-of-the-line protection and more, this bag is ready for any epic gravel adventure!
Optimized Frame Location: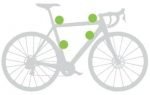 The TEKLITE™ TT 660 provides separate padded compartments allowing you to store a whopping 660 cc worth of items all while staying organized. The fleece-lined divider keeps your phone protected in a padded compartment, fitting large phones with cases up to 76 mm x 151 mm tall. The second, larger compartment is ideal for your nutrition, keys, tools and other essential gear. Want just one space for your items? The divider is easily removable giving you one large storage compartment.
Twin zippers provide quick access to the items you need in the instance, while the light grey interior allows for easy sighting…no more dark abyss!
Keeps your phone and other items cool and heat safe.
2 mm of closed cell insulation is embedded in the sides, with insulation even in the bottom of the bag. Also features high strength stiffeners helping to maintain shape. A special matte finish eliminates reflective sun glare and logo is made of a highly reflective liquid to help ensure you'll be seen in the dark on those long explorations.
---