---
---
The TEKLITE™ Tubie 285 gravel bag can be mounted virtually anywhere and is designed for carrying tubes, but can be used for a variety of other items. Protecting the gear to get you there and back! Sure, you can attach flat repair gear using a velcro strap, and expose the tube to mud, grit, thorns, and the sun, but that really doesn't make sense does it?
Optimized Frame Location: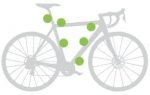 For direct mounting, two 16 mm bolts are included. When strap mounted, the reinforced non-slip base provides a storage solution that will stay put on any terrain under any condition.
The 

TEKLITE™ Tubie

 is optimized to fit standard gravel bike tubes measuring up to 700c by 35-43 mm. For those riders running tubeless, the 

TEKLITE™ Tubie

 can carry your inflator, CO2 cartridges, tire levers, and tubeless repair kit.
---